We all know the struggle of receiving a gift card and trying to spend the entire amount on the card. We usually find that we get a few things or exactly what we wanted and then end up with change on the card. The amount left could be over $1 or less than but no matter the amount it's stuffed into our wallets and forgotten about.
At Good In Deed we want to give you a chance to put that change to work for you and others in need by regifting to do good.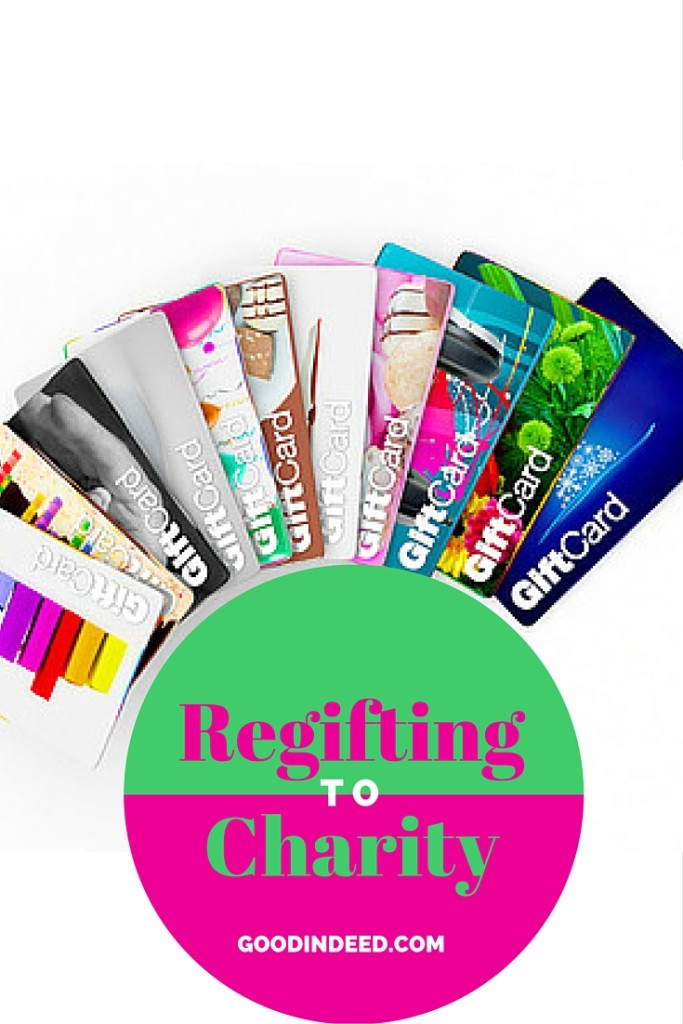 Regift is a charity organization that allows you to use the change on those gift cards as donations. All you do is visit Regift's website and input the info on the card. ReGift will take those funds and extract them then donate those funds to charity. Once those funds have been donated, they email you a receipt showing you where your funds had gone. It is a great way to get the most of those gift cards after you've used what you can towards a gift for yourself. This gets even better.
The Good In Deed community has grown over the years. Becoming a large community of people who are interested in making a difference in the world. Doing things to better our own communities or making an impact around the world. That's why ReGift and Good In Deed have teamed up to raise more funds than ever before in Good In Deed history. In an effort to grow even more we are announcing the Good In Deed ReGift Gift Card event.
Since our community is so strong, we are reaching out to you directly. If you have a gift card that has change on it or funds that you just don't see yourself using then donate the funds to Good In Deed.
Simply go to ReGift Charity's website and click on "Good In Deed". If your card has more than $1 left in the balance you can input the info requested and you'll be done. If your card balance is less than $1, you can send them directly to:
ReGift Charity
RE:  Good In Deed
28 Amesbury Court
Ladera Ranch, CA  92694
Once you've sent your gift card(s) you will receive an email with the receipt showing the amount you've shared and where those funds had gone. You can use this receipt to show that you've donated funds. If you don't have any gift cards to donate, you can always get involved in one of the many other ways we offer here at Good In Deed.
We look forward to this partnership with ReGift and hope you're as excited as we are. As always, you can rest assured that both ReGift and Good In Deed is dedicated to your privacy and will not share your email or home address.